Williamson welcomed back at IW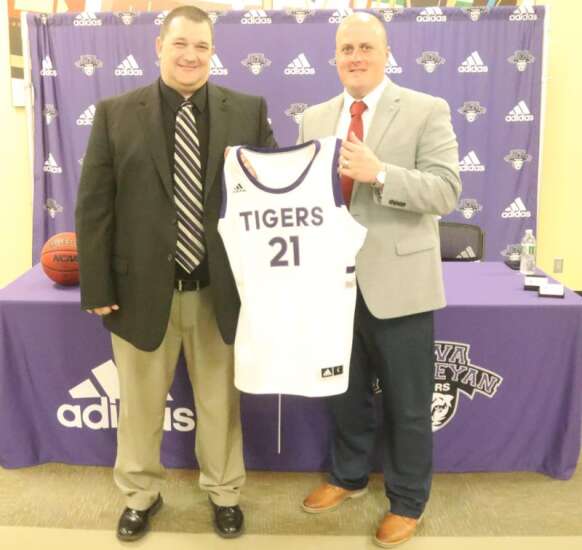 MT. PLEASANT — Sometimes to move forward, you have to take a step back. That's exactly what the plan is for the Iowa Wesleyan women's basketball program.
The University announced over the weekend that Steve Williamson, the former Iowa Wesleyan women's basketball coach that took the program to incredible heights, will be back on the sidelines at Olan G. Ruble Arena next season. On Monday, the school held a news conference to officially welcome him back.
'I could not be more excited to announce Coach Steve Williamson as the new women's basketball coach at Iowa Wesleyan,' said Derek Zander, Iowa Wesleyan's Vice President for Athletics and Advancement.
Williamson graduated from Iowa Wesleyan in 2000, and took over as head women's basketball coach just four years later. In his 13 years at Iowa Wesleyan, Williamson went 246-147 with four conference titles, five conference tournament titles and eight national tournament appearances.
In 2009, the Tiger women were ranked No. 14 and advanced to the Elite 8 of the NAIA Division 2 women's basketball tournament.
'He turned a struggling team into a perennial power,' said Zander.
Williamson has spent the last four years at William Penn University in Oskaloosa, where he has seen even more success, but he said he knew it was time to come home.
'It feels great to be back on this campus again,' Williamson said. 'It feels great to be the head coach at Iowa Wesleyan.'
Williamson described what the University has meant to his life. The school is where he met his wife, and where he watched his family grow.
'Iowa Wesleyan has played a huge role in our lives,' Williamson said. 'Our kids pretty much grew up on this campus.'
Williamson has three children. His oldest, Maddie Williamson, is a sophomore at Iowa Wesleyan and played for the Tiger women's basketball team last season before taking this year off to help coach at New London.
'I'm not going to lie, there would be times when I would go back and watch her games instead of watching film on us,' Williamson said. 'I would go watch how she did so I could critique her and tell her what she did right or wrong.'
Williamson says spending more time with his family was a big reason for his decision to come back. The Williamson family has continued to live in Mt. Pleasant, and he says the drive back and forth from Oskaloosa became exhausting, though not nearly as much as the feeling of missing out on his kids' events. Although William Penn was good to him, he says it was time to settle back in at Mt. Pleasant.
'For 23 years, I've always kind of put myself above my family when it came to coaching,' Williamson said. 'I want to change that.'
Williamson says he expects the Tigers to be one of the top teams in the NAIA soon, but he can't do it himself. He will immediately focus on recruiting his team of the future.
'It all comes down to recruiting,' Williamson said. 'That's college eathletics. If you're going to be successful, you've got to recruit.'
The Tiger women still have a handful of games left this season, but they will continue to be under the leadership of interim coach Jazmyne Laskey. Williamson says he has talked to the team and will watch some practices from the balcony, but does not want to interfere with the team's final games.