Steve Roth Washington Relays set for Thursday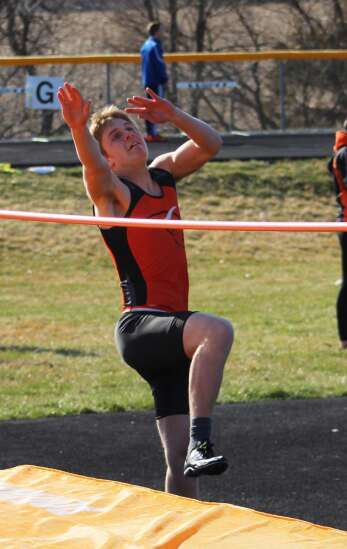 WASHINGTON — Whether the high school track meet scheduled for Thursday at Case Field is the 59th or 58th Steve Roth Washington Relays is irrelevant. The relevance is in the fact that there is a high school track meet at Case Field after there were no track meets on any field last year.
Whatever it takes Washington head track coach and his trusted army of volunteers of at least 25 will host 22 teams in three classes of boys.
The large school class has Carlisle, Cedar Rapids Prairie, Iowa City High, Iowa City West, Mt. Pleasant, Ottumwa, Washington and Cedar Rapids Xavier. Class B will contain Fairfield, Fort Madison, Mediapolis, Mid-Prairie, West Burlington/Notre Dame, Prairie JV, City High JV. The small class, C, has Columbus, Prairie freshmen/sophomores, Danville, Highland, City High freshmen/sophomores, WACO, Wapello, Washington JV and Winfield-Mount Union.
'It's exciting to finally have a meet after a year without,' Roth said. The Demons coach appreciates it more than ever after he was stricken with the coronavirus at this time last year.
'We'll do anything to have a meet,' Roth said. There is a chance the meet could be moved to Friday with rain scheduled for Thursday and 60 degrees on tap for Friday.
'We just want to give the kids an opportunity to run well, but you take what you can get when it's March,' Roth said. 'Everybody gets to run four events, but only two can score for a team. Three attempts in field events and no finals.'
Fans must be masked to enter and none will be allowed on the infield. Athletes will be on the south side of the field.
Field events start at 3:30 and running events at 3:45.
Events won't be divided into classes. Slow seeded times will run with slow and fast with fast. It will then be sorted and scored by the outstanding staffers in the press box.
'Everybody gets to participate and nothing will make up for last year but we're going to do our best,' Roth said. 'I'm excited that it's be a great adventure and greatly competition that a lot of people should come see.'
A lot of teams always return to this event because it is so well run.
'People like it because we know what we're doing and we keep it moving and the reason were able to do that is we've had great people working,' Roth said. 'It's a testament to the timing system, to the girls, ladies, guys and how well they know what they're doing.'
Sanitizing of the blocks and batons will be enforced. The discus and the shot throwers must retrieve their own implements. All will be done to follow the guidelines 'better than possible because we should and because we'll do anything to have a season.'