Schafer injury no obstacle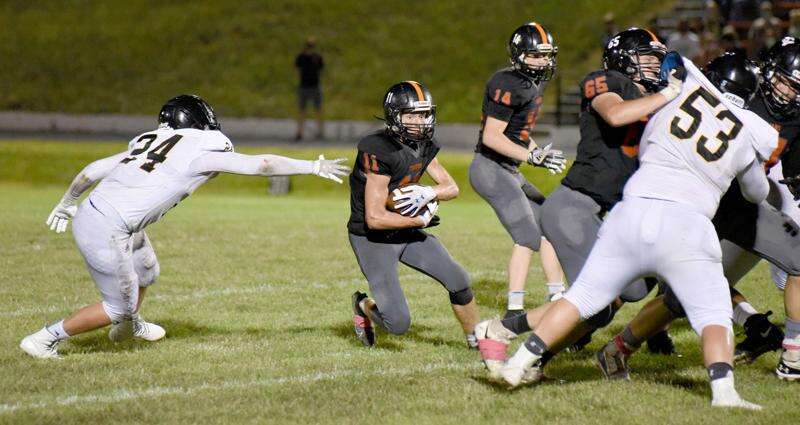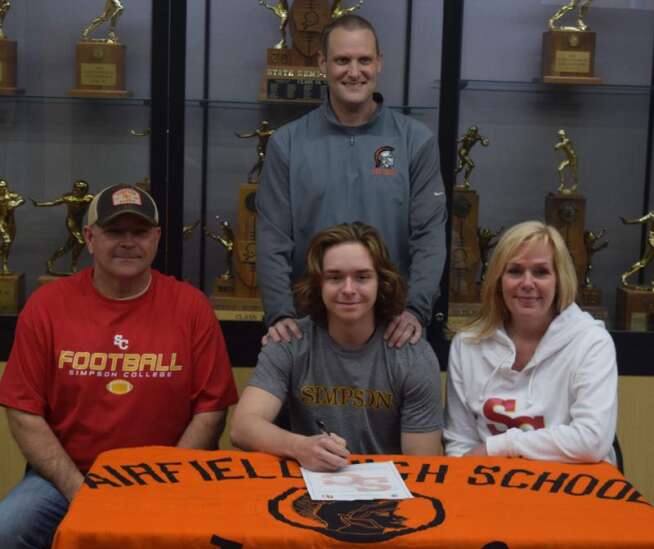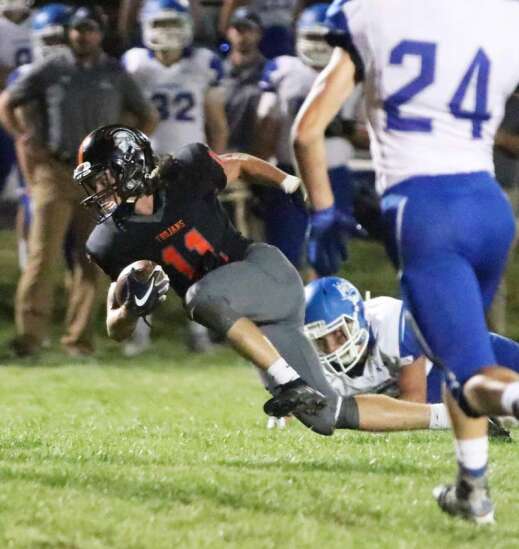 FAIRFIELD — Maybe it's just coincidence but Landen Schafer played in one football game in 2020 and that was the only game Fairfield High School won.
Before halftime, Schafer made a cut upfield. Instead of shredding tacklers with the move, it shredded the anterior cruciate ligament in his knee.
His senior season had a great start — 14 carries for 86 yards, an average of 6.1 yards per rush, and a touchdown in that 15-7 win over Knoxville — but a terrible ending.
Despite not playing in another game, Schafer was at every practice, every weightlifting session and every meeting. It is that dedication that will help him succeed at the next level, said Fairfield head coach Nate Weaton.
Last week, Schafer signed a letter of intent to play football at Simpson College in Indianola.
Schafer considered Central College, University of Wisconsin at River Falls, Macalester College and others.
'I'm very proud of Landen for pursuing his dream to play college football, and know he will have great success on and off the field,' Weaton said.
Schafer is going to major in business, but he is not sure of a specific course.
'I really want to work for Pioneer or a company like that and that will probably be sales or something similar,' Schafer said. 'Something with ag because I really like agriculture.'
Simpson has ties with Pioneer and that is one of the reasons Schafer chose the Storm.
'I really liked how close everything was on campus and the football facilities were awesome,' Schafer said. 'The weight room, where I spend a lot of time, was really nice. It seemed like home to me.'
His junior season, Schafer again averaged 6.1 yards a carry, caught 10 passes, had the only fumble recovery and intercepted two passes.
'Landen has great speed and explosiveness, which he utilized exceptionally well when he was healthy at both the slot receiver and running back positions,' Weaton said. 'As he continues to strengthen his knee, and gets that speed and explosiveness back to 100 percent, he'll really need to work hard at improving his field vision at the next level.'
Schafer led the Trojans with 10 kick returns for 191 yards in 2019. He was 3-for-3 on field goals with a long of 40 yards and made 7-of-9 extra-point attempts.
Schafer was originally recruited as kicker, but will play running back as well.
'We look for high-character young men, great students and talented football players,' Simpson head coach Matt Jeter said. 'Landen embodies all those characteristics.'
The Storm ended the 2019 season 5-5 and 4-4 in American Rivers Conference play. The offense ranked third in total yards with 4,285. Zach Kreider, who did the kicking, has graduated. There are three kickers listed on the roster for 2020, which will be a three-game season in March and April. Mid-Prairie graduate Terrhyn Jacoby, a junior who is a two-year letterwinner, is listed as a kicker and wide receiver.
'Landen's biggest asset is his athleticism and speed,' Jeter said. 'He will add depth to our running back unit and his ability to kick will be another asset he will bring to the Storm program.'
The biggest challenge for a freshman in any sport is acclimating to how much faster the game is at the next level. The combination of faster players and more complex language can a tough balance for a freshman.
'Landen will need to adapt to the speed and pick up the verbiage we use offensively,' Jeter said. 'He has the competitive excellence and toughness to make it happen.'