Old, new in Demons, Trojans district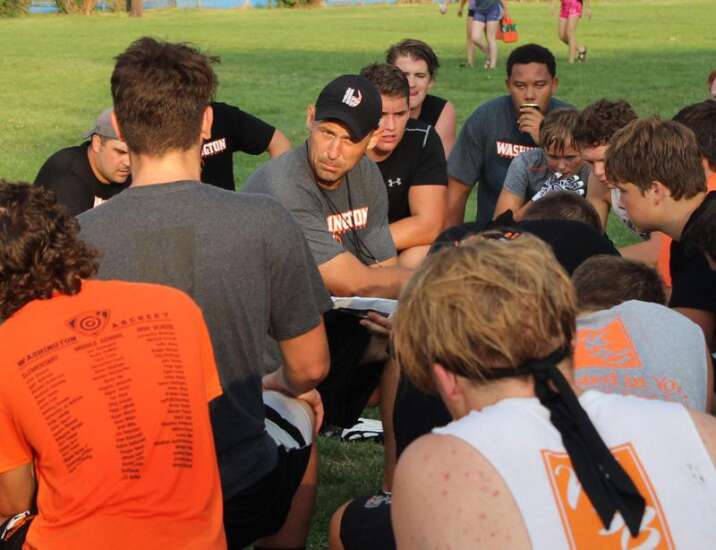 The release of district information Friday March 12 gave teams, fans and coaches clarity as to what to plan for over the next two years of high school football.
The Iowa High School Athletic Association has Washington, Fairfield and Keokuk in Class 3A District 5 with Solon, Grinnell and West Burlington-Notre Dame. (See below.)
'I think the IHSAA has done good work with the addition of Class 5A, which certainly has impacted every program across the state,' Fairfield head coach Nate Weaton said. 'Anytime you get clarity that is a positive.'
Weaton said he is not one to criticize or question decisions, instead choosing to focus on preparation.
'I like certainty with regard to our district and schedule, which allows our staff and players to get to work,' Weaton said. 'Having this information in mid-March really gives us a good amount of time to put the work in before camp in August.'
'I see the district being very competitive as the three perennial powers — Solon, Washington, Grinnell — lost a lot of numbers and production, but have proved they can reload,' West Burlington athletic director Jeff Housel said. 'Fairfield, Keokuk and WBND return a lot of numbers and production from a year ago,'
Fairfield, Grinnell, Washington and Keokuk were in 3A last season while West Burlington-Notre Dame and Solon were Class 2A. Traditional district opponents Fort Madison and Mt. Pleasant have been grouped into the larger class, 4A.
'I'm pleased with the new district assignment and, while sad to see some of our longtime rivals in Mt. Pleasant and Fort Madison move up to 4A, it's great to see new opponents in the district that we look forward to facing,' Weaton said.
Both Washington and Mt. Pleasant coaches have said they will try to schedule other Southeast Conference schools for non-district games.
'We like our district,' Solon coach Lucas Stanton said. 'Washington has become a good rivalry over the years and we look forward to the opportunity to play them again. They are a well-coached team with kids who play hard.'
Grinnell is the wild card in the new district. WBND and Fairfield have played three times over the last five years.
'I know coach Brian Sauser is good and has done a nice job of restoring Grinnell,' Stanton said. 'We know they will be a challenge. I am not as familiar with the other three teams in our district so that will be a fun challenge over the next couple years getting to know them and what they are about.'
Washington head coach James Harris evaluated four of the new district's foes. 'Grinnell was very successful last year and will be returning a talented team led by the quarterback, who is the coach's son. He is a junior but has been starting since he was a freshman. Sauser is a tremendous coach. Jay Eilers is another great football guy and is changing the culture at West Burlington. I believe Fairfield has invested a lot into next season's junior class and they are talented. Coach Josh Roberts at Keokuk is doing a good job with their program, though they did graduate some talented skill position players.'
The fifth is Solon's Spartans.
'Playing a traditionally great program helps keep focus and accountability,' Harris said.
Only five schools have more state titles than Solon's five and just six have more title game appearances than Solon's 10. Both Keokuk and Washington have one. Grinnell has a 22-17 record in 17 playoff appearances. Fairfield is 11-23 in 23 playoffs. Washington is 13-15 in 15 qualifying years. West Burlington is 0-7 in seven and 0-4 as West Burlington-Notre Dame in four. Notre Dame was 0-1. Keokuk is 5-6 in seven playoff appearances. Solon is 57-25 in 30 playoffs.
WBND won a playoff game for the first time in its history last season, except it didn't. Although every team made the playoffs last year, the IHSAA only credits teams in the final 16 of each class as playoff qualifiers.
'We are happy with the progress coach Jay Eilers has made in our program and are excited to build off last year,' Housel said, 'We have to stay healthy as we don't have quite as much depth as some of the bigger schools.'
The Falcons return a 1,300 yard rusher in Travain Donaldson, but are one of the five smallest 3A programs (West Burlington has 226 students and Notre Dame has 104 for the Class 3A total of 330).
The Spartans started 0-2 then advanced to the final eight. 'We like what we return in all phases, but have a couple holes to fill,' Stanton said.
The GPS will be an important tool for fans as the district encompasses the longest drives of most any other.
'People are having a hard time trying to wrap their heads around this, especially with that type of travel,' Sauser said and mentioned Knoxville, which is 47 miles from Grinnell. Knoxville's district has Harlan (147 miles), Atlantic (117 miles) ADM (65 miles), Creston (85 miles), and Saydel (45 miles).
Solon will be Grinnell's closest game at 75 miles. Washington and Fairfield are just shy of 90 miles each. Grinnell will have 160 miles to Keokuk and 145 to West Burlington.
'Our kids will have to get out of class before 1 p.m. for the freshmen and junior varsity games,' Sauser said. 'A district that jumps out at me is 4. Davenport Assumption and us should be flipped.'
Assumption's mileage would be 80 to West Burlington and 118 to Keokuk. The Tigers would be with Benton Community, Central DeWitt, Maquoketa, Mount Vernon and Vinton-Shellsburg. Grinnell's two longest trips would have been 135 miles each.
The Association's objective was to keep districts competitive and a quick perusal seems to have most districts with two perennial successful teams.
'As much as we are all coaches, we are all fans too,' Sauser said. 'It is what it is, so here we go.'
Class 3A
' Teams: 36
' Districts: 6
' Teams per district: 6
' Playoff qualifiers: 16
' Automatic qualifiers: 12, top two per district
' At-large berths: 4, based on RPI
' Regular-season games (per team): 9
' District games (per team): 5
' Non-district games (per team): 4
District 5: Record in last two years: Fairfield (2020 in 3A-5, 1-7; 2019 in 3A-6, 0-9), Grinnell (2020 in 3A-6 8-3; 2019 in 3A-7, 6-3), Keokuk (2020 in 3A-5, 4-4; 2019 in 3A-6, 6-3), Solon (2020 in 2A-6, 7-3; 2019 in 3A-6, 12-1), Washington (2020 in 3A-5, 8-1; 2019 in 3A-6, 7-3), West Burlington-Notre Dame (2020 in 2A-7, 4-5; 2019 in 2A-5, 1-8)
Random facts:
Solon is 8-3 in its last 11 games versus Washington.
In two games last season, Washington had a 109-14 scoring advantage on Keokuk. Keokuk has two wins in 14 games with the Demons since 2008.
Fairfield is 7-6 versus Keokuk since 2008. Keokuk has won the last three, but the Trojans won five consecutive, then two wins each.
Fairfield played West Burlington last season, again in 2017 and 2016 and the Falcons won all three.
Washington had a 20-7 halftime lead on Solon in 2019, lost 35-20, then watched as Solon reached the 2019 3A title game.
Washington defeated the Spartans 33-18 in a non-district game in 2020. The previous victory was 28-14 Sept. 25, 2015, but Solon defeated the Demons in the postseason that year 17-14, Oct. 28, 2015.
Grinnell lost to Cedar Rapids Xavier 44-20 in regular season at home, then lost 21-7 to Xavier at Cedar Rapids in the in quarterfinal.
Washington was fifth in yards per rush in the class. Grinnell was third in rushing scores with 40, second in all-purpose yards, third in rushing yards, fifth in rushes.
Washington was first in defensive touchdowns with six, fourth in tackles for loss with 72. Grinnell was fourth in total tackles. Fairfield was fifth in yards per pass completion. Washington was second in punt returns and first in yardage. The Demons were first in two-point conversions with 17 and Grinnell was second with nine, Keokuk had eight.
TOTALS LAST SEASON AND CLASS RANK
TDs Total Yards Passing comp-att-yards-td-int Rushes-Yards
Grinnell 55 2nd in 3A 5,453 2nd 110-180-1,541 (7th) -15-5 416-3,216 third in 3A
Washington 55 2nd in 3A 3,535 20th 69-128-1,083 (23rd) -16-6 256-1,721 15th in 3A
Keokuk 30 25th in 3A 3,178 23rd 77-149-982 (28th) -13-4 263-1,656 18th in 3A
Fairfield 15 43rd in 3A 1,709 51st 45-151-958 (30th) -13-9 173-424 51st in 3A
Solon 44 8th in 2A 4,197 6th 63-117-1,092 (24th) -14-6 417-2,343 fifth in 2A
WBND 32 22nd in 2A 3,117 25th 34-68-317 (50th) -2-4 365-2,317 eighth in 2A