Iowa Wesleyan men down Blue Jays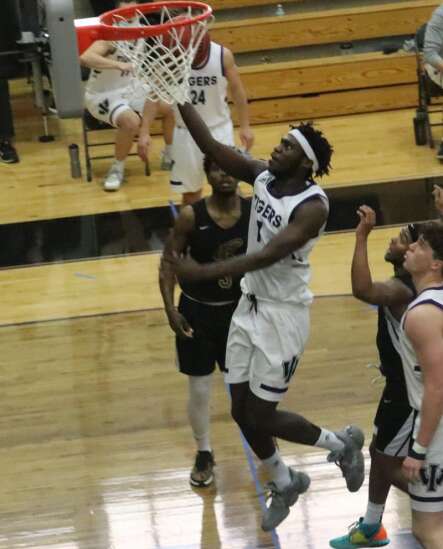 FULTON, Mo. — They had to battle for it, but the Iowa Wesleyan men's basketball team completed the season sweep of Westminster on Wednesday night.
The Tigers clung on for a four-point win in a St. Louis Intercollegiate Athletic Conference road game, nipping the Blue Jays 82-78, their second win of the season against the school in Fulton.
Iowa Wesleyan didn't get off to the hottest of starts. Westminster jumped out to an early lead, and ran that advantage to 16-9 before Jett Tjaden nailed a 3-pointer to give the Tigers a boost.
That shot began a Tiger clawback, which saw Iowa Wesleyan eventually take a 23-22 lead on a Jarryd Fernandes layup. The Blue Jays took the lead back temporarily before Fernandes hit another layup to give Iowa Wesleyan a 25-24 lead, an advantage they wouldn't surrender.
Iowa Wesleyan led 42-35 at halftime, and ran that advantage up to 19 points, at 69-50, midway through the second half.
The Blue Jays did storm back to make it extra dicey in the final five minutes. Westminster cut the Tigers' lead all the way down to one, at 74-73, with 4:18 remaining.
The Blue Jays, however, could never overtake Iowa Wesleyan. The Tigers hung on to win their fourth game of the season and third in SLIAC play.
Fernandes had another big game, going 12-for-13 from the field and finishing the night with 26 points and 10 rebounds. Carver Locke had 26 points, eight boards and three assists.
Tjaden hit a trifecta of 3-point shots en route to a 10-ponit night. Kaleb Cresswell had seven points. Marvin Saintolien scored five. Sy Sanchez had four. Alex Dentlinger and Jared Arellano finished with two apiece.
IW is not 4-7 overall and 3-4 in conference play. They will host Blackburn College on Saturday.