Football: Panthers moving on up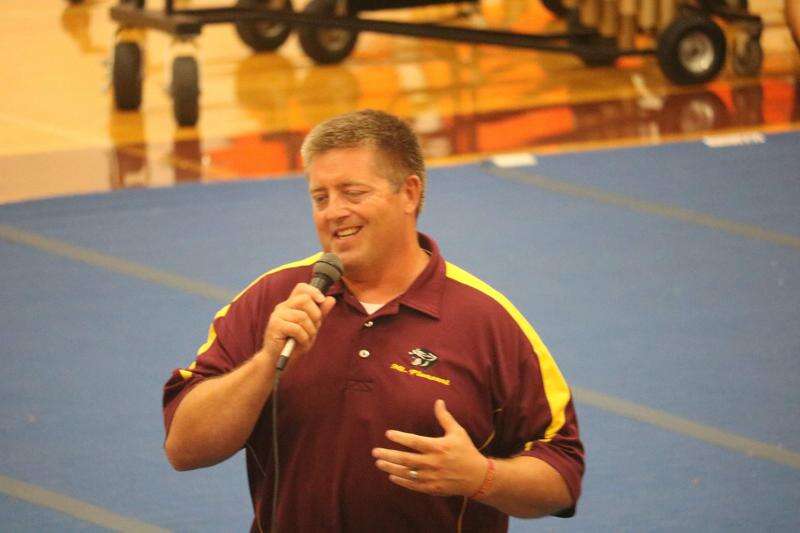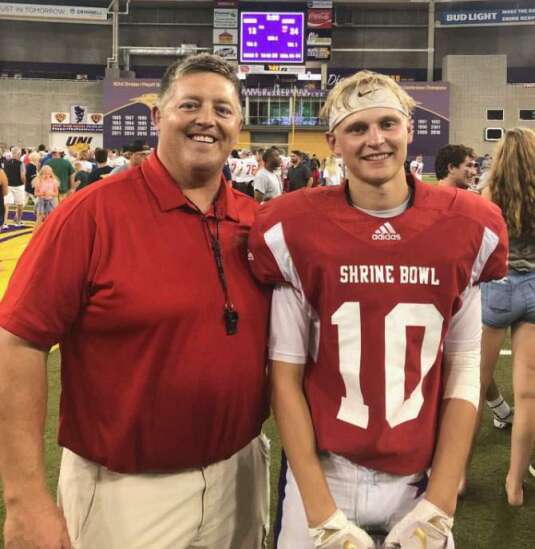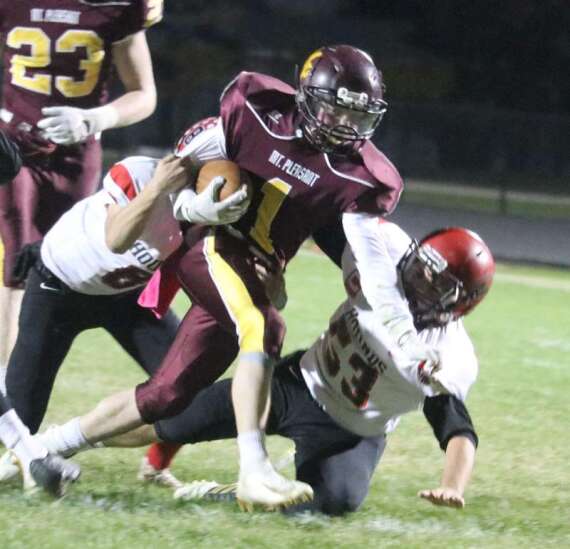 It is a whole new world in the realm of football for schools with enrollments above 400 and less than 900 as the institutions will compose Class 4A.
Mt. Pleasant is at 442, Fort Madison at 422 and Burlington at 746 will all be in 4A District 3 moving up from 3A with Clinton (730), North Scott (727) and Iowa City Liberty (843 in 4A last year).
Mt. Pleasant doesn't have much information on Clinton or Liberty. Liberty head coach Jeff Gordon stepped down after the season.
'It will be a struggle to learn what each of those teams are about,' Mt. Pleasant head coach Shawn Striegel said. 'We have to beat the best to be the best. We will learn, prepare and plan for that.'
The Panthers have firsthand information on fellow Southeast Conference members Fort Madison and Burlington as well as North Scott, having played the Lancers at Eldridge in the postseason.
'We saw how the quality of program Mt. Pleasant is in the playoffs,' North Scott head coach Kevin Tippett said. The Panthers led at halftime. 'We saw a lot of the other teams in the new district when we were preparing for the playoff. It will be fun this year.'
'There will be a lot of unfamiliarity this season,' Fort Madison coach Derek Doherty said. 'The defending state champions (North Scott) add a lot of roughness to climbing the mountain. Mt. Pleasant is a very solid, well coached team we are most familiar with and played Burlington non-district before last year. The other two teams are completely foreign to us currently.'
'I am fairly pleased with our draw,' said second-year Clinton head coach Jon Wauford, who was an offensive lineman at the University of Northern Iowa from 2005-2009. 'We have played a lot of the northern schools so it's nice to head south.'
Four of Clinton's road trips are 90 miles or more with North Scott at just 35 and Mt. Pleasant and Fort Madison at 130.
'It is better than going to Mason City or Decorah,' Wauford said. 'We are trying to improve because we have been struggling but we have got some kids working on things that should help us get turned around.'
'All the games are within striking distance for fans,' Doherty said. 'Obviously long bus trips are never fun but it's not really a controllable for us, so we don't waste much time on it.'
'All we can do is gas up the bus and go,' Tippett said. 'We are excited about the new teams.'
'North Scott coming off a state title is obviously really special,' Doherty said. 'They've consistently been a solid team. I have the utmost respect for Mt. Pleasant and how they've sustained high levels of success historically. Burlington has a great leader in Coach 'Krek'. He will have them moving forward. Our guys and staff are working hard at learning about the other two.'
When Wauford played for Clinton, teams would make the playoffs with 1-8 or 2-7 records and lose 74-0 in the first round. 'I like the percentage of the teams qualifying being almost half.'
Tippett was not in favor of every team in the playoffs or the reduction in the regular season games in 2020. 'You're cutting opportunities for the kids and 16 is a fair number with the class being at 36.'
The top two in each district are in the playoffs and the next four at-large are determined by the RPI.
'I think the RPI is false and there needs to be a human element to it,' Tippett said. 'I don't think teams look for challenging non-district schedules. It encourages teams to chase wins instead of playing quality opponents.'
The non-district games are still a mystery but Striegel has submitted a list of seven preferred opponents to the Iowa High School Athletic Association with three being Fairfield, Keokuk and Washington.
'Our kids go out for football to play those rival games with the atmosphere and the competition that will prepare us for the district,' Striegel said. 'The other games we want quality opponents.'
Striegel doesn't see a weak team in 4A-3. 'Fort Madison has momentum from last season. North Scott is the favorite. Burlington and Clinton have the athletes.'
Liberty has had a varsity program for three years and it is currently without a coach.
Burlington head coach Jim Krekel said, 'We look forward to this district as we have played all except Liberty in the past.'
Being in the larger class does not trouble the Panthers coach. 'Football is football. You block. You tackle. We want to be the best tackling and blocking team in the district and we were not that last year. Those are our expectations moving forward. If we can succeed at those things then we can do about anything. Then we are going to win football games.'
Class 4A
' Teams: 36
' Enrollments: 37th in state to 72nd
' Districts: 6
' Teams per district: 6
' Playoff qualifiers: 16
' Automatic qualifiers: 12, top two per district
' At-large berths: 4, based on RPI
' Regular-season games (per team): 9
' District games (per team): 5
' Non-district games (per team): 4
' District 3: (Last two seasons overall record) Burlington (2020 in 3A-5, 1-5; 2019 in 4A-5, 1-8), Clinton (2020 in 3A-4, 0-7; 2019 in 3A-05, 0-9), Fort Madison (2020 in 3A-5, 7-2; 2019 in 3A-6, 4-5), Iowa City Liberty (2020 in 4A-2, 2-3; 2019 in 3A-5, 7-3), Mount Pleasant (2020 in 3A-5, 4-4; 2019 in 3A-6, 6-3), North Scott (2020 in 3A-4, 9-1; 2019 in 3A-5, 9-2)
TOTALS LAST SEASON AND CLASS RANK
TDs Total yards Passing comp-att-yards-td-int Rushes-Yards
Liberty 8 36th 1135 36th 21-51-262 (36th)-1TD-7INT 165-553 35th in 4A
Mt. Pleasant 30 25th 3,583 17th 91-168-1,443 (10th)-10-6 274-1,378 27th
Burlington 6 51st 1,511 52nd 13-41-170 (53rd)-1-8 254-855 44th
Clinton 6 51st 1874 49th 100-174-938 (31st)-3-10 160-291 52nd
Fort Madison 38 16th 2,856 33rd 86-152-1,042 (26th)-13-8 225-1,142 34th
North Scott 36 18th 3,608 16th 118-185-1333 (14th)-13-5 365-1,740 14th