Baseball and softball begin for Iowa Wesleyan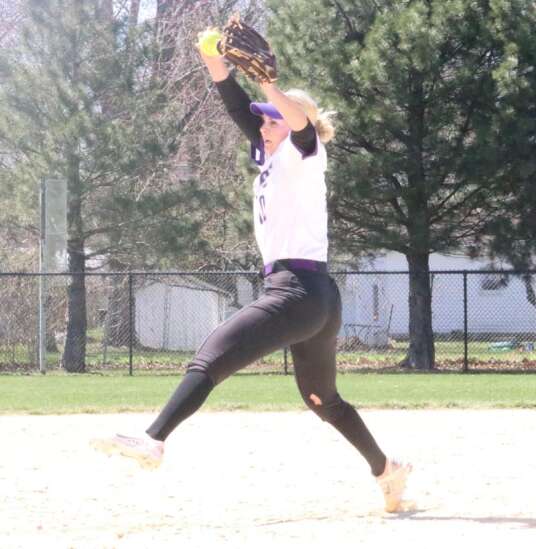 A busy winter and spring for Iowa Wesleyan athletics continued to get busier this weekend when two more Tiger squads took the field for the first time. Both the Iowa Wesleyan baseball and softball teams were in road action with the baseball team going 1-3 at Greenville University and the softball team going 0-2 at Graceland University in Lamoni.
The Tiger baseball team was thrown in the fire early, playing a foursome of conference games against St. Louis Intercollegiate Athletic Conference foe Greenville. Iowa Wesleyan fell in the first three games of the weekend, dropping games 8-5, 3-0 and 19-13 before taking the final game 10-5.
After losing the first three games and trailing 2-0 in the fourth, the Tigers had a nice rally to steal their first win of the season. Iowa Wesleyan put up five runs in the third inning and three in the fourth to take a 7-2 lead, one they would not relinquish.
Iowa Wesleyan had four players record RBIs in the game four win. Nick Salas, Max Wyninger, Minami Matsumoto and Erik Kiewiet all knocked one run in.
Cauy Massner picked up the win in the circle. He gave up five runs (three earned) on five hits and three walks, while striking out three batters.
The Tiger softball team was shut out in its nonconference doubleheader at Graceland. Iowa Wesleyan fell 3-0 in the first game and 13-0 in the second.
The softball team had five hits in the first game. Kayla Ford and Taylor Johnson recorded two apiece and Emilee Rooney had one.
Morgan Christner pitched in the opening game. She gave up three earned runs on seven hits and three walks, while striking out nine batters.
The Tiger softball team had just one hit in its second game, a single by Ford. Ariana Wolfard took the loss in the circle, giving up 10 runs (seven earned). Trinity Nolan gave up three runs one earned).
The Tiger softball team will be back in action today (Tuesday) when they hit the road to take on the University of Heath Sciences and Pharmacy in St. Louis. The baseball team plays another SLIAC foursome on Thursday and Friday at Blackburn.