Fairfield attorney David Miller retires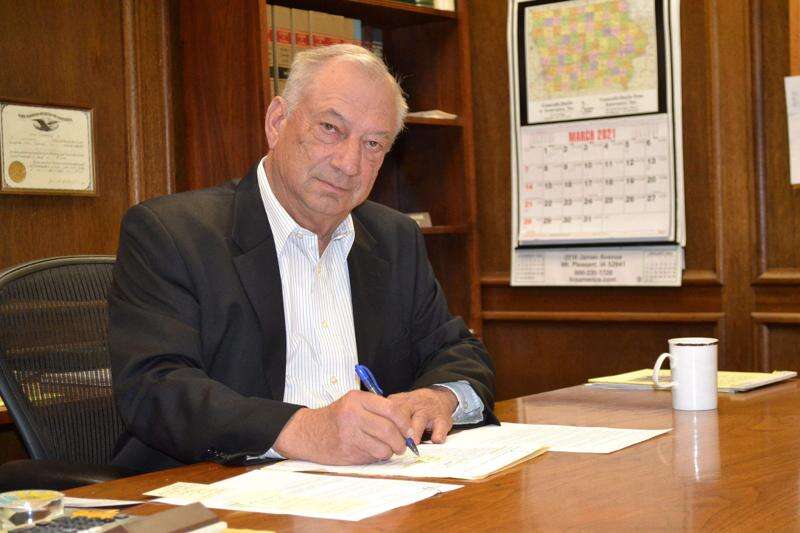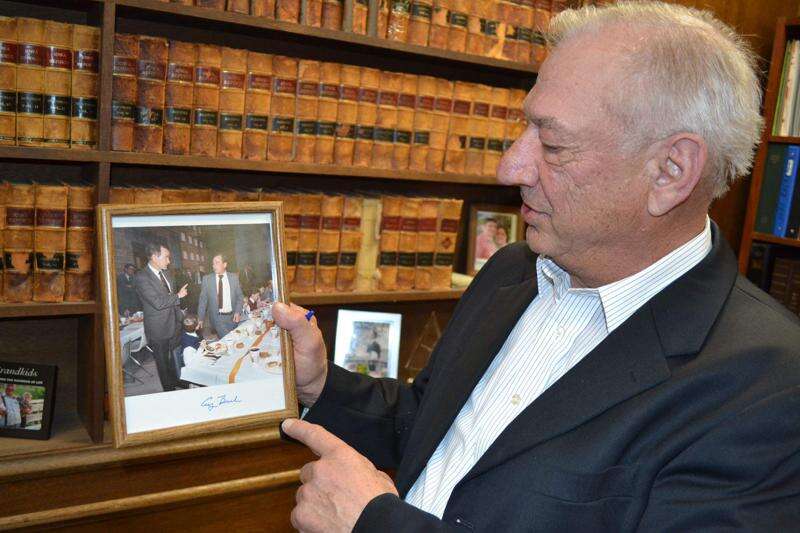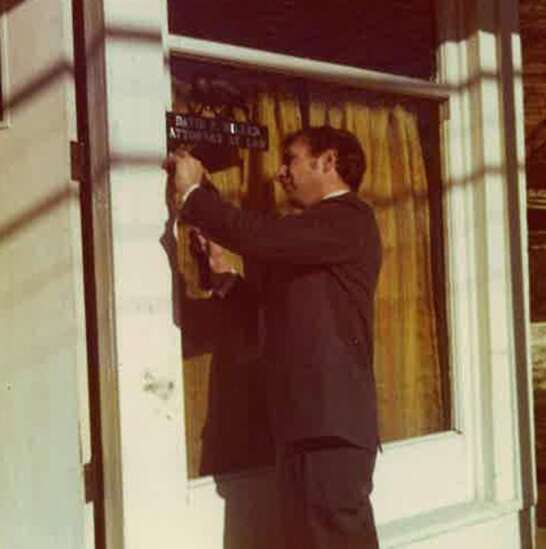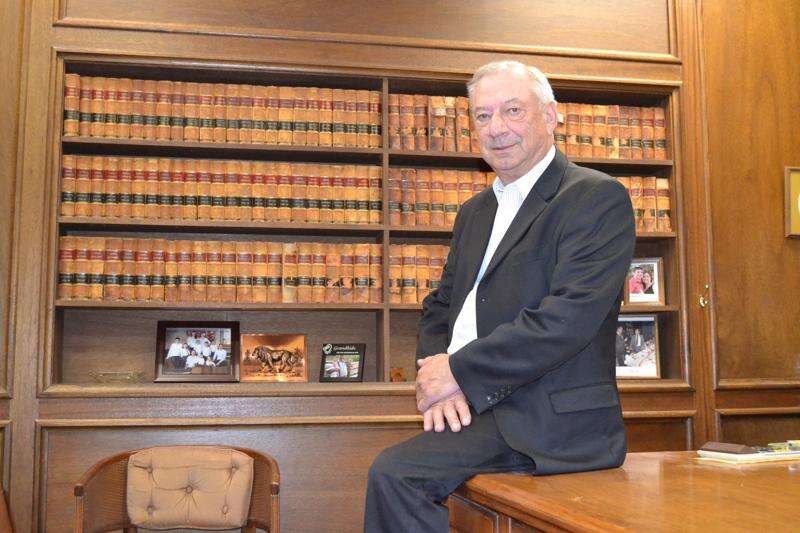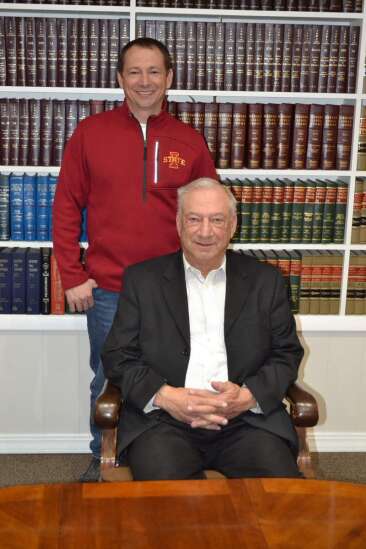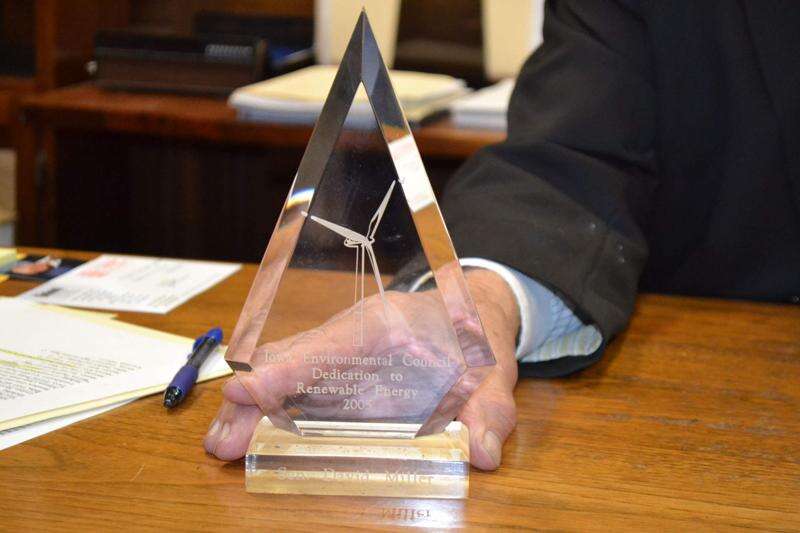 FAIRFIELD — Fairfield attorney David Miller is calling it a career after 46 years of practicing law in Jefferson County.
Miller will hand the reins of his legal practice, Miller Law Office, to his son Paul when he steps down on April 1.
'I'm proud to have my son take over the practice,' David said. 'He's worked with me for 15 years, so he's had plenty of time to get acclimated.'
The elder Miller said retirement will be a major adjustment for him because he's used to having so much to do. In addition to practicing law for almost half a century, Miller has farmed, raised cattle, run the Batavia Grain Elevator, planted a vineyard, served as an Iowa State Senator and done consulting work in former Soviet-bloc countries.
Miller will get to spend more time with his wife Pam of 53 years, his four children Paul, Stephen, Seth and Penny Morgan, and 14 grandchildren. He said he has mixed feelings about retirement, but has a few things lined up to stay busy such as traveling.
Early life
David was born and raised in Batavia. In fact, he was born at home, and described his upbringing as 'close to the Abe Lincoln log cabin story.' He attended Batavia schools through seventh grade, and then after Cardinal School District was consolidated, attended junior high in Agency and high school at Cardinal in rural Eldon.
Miller said he did not expect to attend college in his youth. Though he was a good student, he assumed he would choose a career with more physical labor, or something outdoors. His dad worked for the John Deere plant in Ottumwa, and the young David often helped his uncle on the farm.
'Back then in the 1970s, you had about three options for a career: the military, farming or factory work,' Miller said.
Miller first thought about a career in international development, and attended Northeast Missouri State (now Truman State) to study it, later transferring to Denver University. But Miller's father, who had some college education during the Depression, encouraged his son to enter law school. Miller enjoyed politics, and thought he could make a good lawyer, so he followed his dad's advice.
After one year at the University of Iowa Law School, Miller was drafted into the U.S. Army. He entered the military in the waning stages of the Vietnam War, and though Miller did not go to Southeast Asia, he did spend 1.5 years in Germany in an artillery division. After his discharge, Miller came back to the states to finish law school in Iowa City.
Libertyville
It was now time for Miller to embark on his own, and luckily he was able to find work close to home. After learning no attorneys in the area needed help, he set up his own law practice in Libertyville, and as far as he knows, was the first attorney in the town since pioneer days.
'When I started, there hadn't been an attorney there for a long time,' he said. 'It turned out to be a good choice, because I knew people from Keosauqua, Eldon, Batavia, Douds, Fairfield, Salem, etc., and had clients from all those small towns.'
The president of Libertyville Savings Bank, Bob Stump, helped Miller set up an office. It was nice to have such a close relationship with the bank, which referred customers to Miller. He moved his law firm to Fairfield in 2000 when he took over Bob Parkin's practice and office.
Agriculture
David's love of physical labor and the outdoors did not die just because he found himself behind a desk. He's always had a small farm to tend to, and raised cattle for 20-30 years. He was always on the lookout for business opportunities because he enjoyed the challenge of entrepreneurship.
After a few years of working as an attorney, the Batavia Grain Elevator came up for sale in 1978, and Miller purchased it. He continued working as an attorney, but took time off in the early mornings and afternoons to focus on the elevator. The farm crisis of the 1980s made it rough to run a grain elevator, and by 1993, David decided it was time to sell.
International work
After selling the grain elevator, Miller was ready for his next adventure. He was listening to the radio one day when he heard somebody talking about doing volunteer work overseas. It piqued Miller's interest, and he contacted a group known as Volunteers in Overseas Cooperative Assistance. In a way, it was fulfilling an old dream Miller had of working in the Foreign Service before he went to law school.
Miller learned there was a need for consultants to help countries formerly part of the Soviet Union, which had just collapsed a few years earlier in 1991. From 1996-2000, Miller went on six assignments to countries such as Kazakhstan, Armenia, Georgia and Poland, where he gave advice on how to farm, run a grain elevator and manage a business.
'When the Soviet Union broke up, people had no expertise in operating businesses because everything was state-owned,' Miller said. 'That was one of the most rewarding times in my life, because I feel like I contributed to those countries becoming capitalist.'
The country of Georgia is where Miller developed an interest in viniculture, or growing grapes for winemaking. This led to him helping to build a winery with sons Stephen and Seth known as Cedar Valley Winery, located just east of Batavia.
Politics
Miller enjoyed his job as an attorney but felt there was more to life than 'writing another will or doing another tax return.' Miller discovered a passion for local politics, and became chair of the Jefferson County Republican Party in the 1990s.
In 1998, the Iowa Senate majority leader told Miller the Republicans needed to find a candidate to run for Iowa Senate in Southeast Iowa. Miller gave the man a couple of names, and mentioned that he, Miller, might even be interested. Miller did end up running and won his party's nomination before winning the general election.
David served in the Iowa Senate for two terms (eight years), and during that time he was most proud of securing funding for local projects such as the Lake Darling meeting house in rural Brighton, the American Gothic House reception center in Eldon, and the deer fence along Highway 34 near Fairfield. Miller owned property in that area and knew just how dangerous that stretch of road is for motorists. He is also proud of having drafted legislation to protect children from sex offenders.
Miller hoped to earn a third term in the Senate but he lost the 2006 election to Democrat Becky Schmitz by just 1 percent (136 votes), 10,362 to 10,178.
'As President George W. Bush described that midterm election, the Republicans took a good drumming, and I was part of that drumming,' Miller said.
Retirement
Miller and his secretary Jane Garretson will retire this year, with Miller having a little over a week left. He said it was time to close this chapter of his life and 'let the younger generation take over.'
Miller said he's thrilled to pass the torch to his son Paul because he knows the practice is in good hands. He mentioned that small towns are having a hard time attracting young attorneys because so many are drawn to big cities.
'A lot of counties don't have any lawyers now,' he said. 'Though many [lawyers] leave home for the city and greener pastures, I think there is no better place to live and raise a family than in Iowa.'