Home / Special Sections / Fairfield Progress Edition
Mt. Pleasant's Longanecker receives Parsons College Spirit Award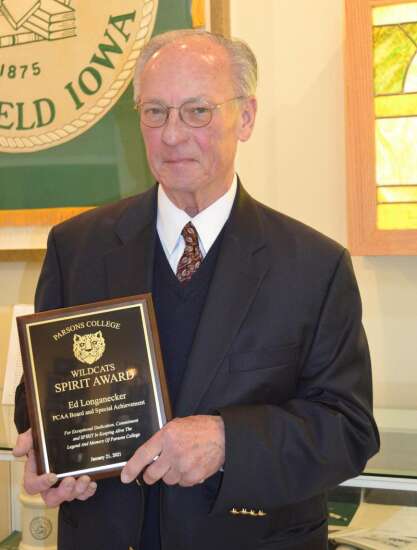 The Parsons College Alumni Association has announced the latest recipient of the Parsons College Spirit Award. Ed Longanecker, of Mt. Pleasant, has been awarded this distinguished recognition for his efforts over the past 15 years in keeping the spirit of Parsons College alive and well.
Ed came to Fairfield's Parsons College in 1964 from Gettysburg, Pennsylvania and graduated in 1968. During his time as a student, he founded and maintained association with the 'Green Acres' Social Organization. He was also involved with the band, I.S.E.A., Monxhead, student senate and provost's council.
Upon graduation in 1968, he began his career in education first teaching English at Pekin Community School, then at Hedrick High School, next Mt. Pleasant Middle School and High School. After receiving a double Masters from Northeast Missouri State University, he assumed an administrative position at a local mental health institute serving as principal of the school for children and adolescent children with challenging behaviors. He later became a regional director of special education for Southeastern Iowa and retired in 2007 after 39 years in education.
Longanecker and his wife owned and operated several business in Mt. Pleasant including a shoe store, Iris City Cleaners, which he still owns and several large apartment complexes. Today, he serves on the board of directors for the Dry Cleaning and Laundry Institute and the Association of Wedding Gown Specialists.
As the need arose, Ed stepped up when the Parsons College E-Newsletter was ready to distribute and electrically sent out 46 different newsletters in 13 years to more than 1,414 alumni each time. That alumni contribution was on his own nickel. He has served on the Parsons Alumni board since 2007 when it was first established. Ed has also taken on 'The Yearbook Project' and has collected more than 28 different years and offered copies to Parsons Alumni to complete their personal collection. The profits have come to the Alumni Association.
As the east wall of Parsons Alumni Hall at the Fairfield Arts & Convention Center was being established, he has provided complimentary cleaning of the Parsons College Flag now framed and hanging on that wall. He has located display cases and delivered them to the Alumni Hall from a closing jewelry store in Mt. Pleasant. He has provided the opportunity for the college's alumni to purchase Green floor mats with the Parsons College Crest.
'The Parsons College Alumni Association salutes Ed Longanecker for his long-term devotion to his college over the past decades and recognizes him as the most recent recipient of the Parsons College Spirit Award,' stated a news release from the organization.