Home / Life
Mt. Pleasant's Delaney McDowell: Staying focused on service this spring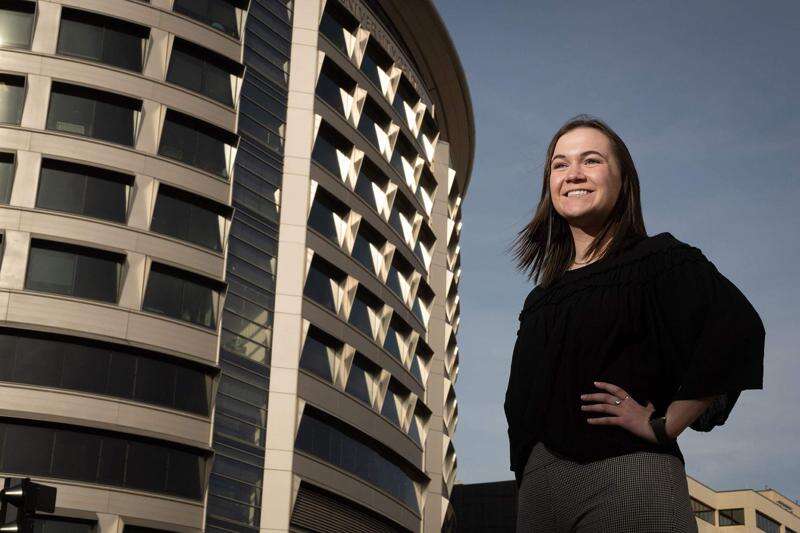 It would have been easy for organizers of Hawkeye Service Breaks and Delaney McDowell, a student at the University of Iowa from Mt. Pleasant, majoring in human physiology, to take a pass in 2021.
With the ongoing pandemic restricting in-person gatherings and causing University of Iowa officials to remove spring break from the calendar, the course that teaches about civic engagement and sends students across the country over the break to help communities tackle pressing issues like food insecurity or economic justice could have skipped a year.
That would have been a missed opportunity, says Ian Van Anden, associate director for the Office of Leadership, Service, and Civic Engagement in the UI Division of Student Life.
Instead of fanning out across the country in 2021, the more than 50 students who are enrolled in Hawkeye Service Breaks are learning how social issues intersect and focusing their efforts on virtual service and in-person activities in the Iowa City community. The cohort meets over Zoom on Monday evenings to discuss a broad curriculum before breaking into smaller groups to examine their selected theme area: economic justice, educational justice, environmental justice, food insecurity, or health care. Students participate in three service weekends during the spring semester.
'We work on giving students the tools they need to think about these social issues-whether it's in their profession, where they move after they graduate, or what they do next year as the pandemic continues to unfold-so that they will have the skills to learn about a community and ask good questions before coming up with answers,' Van Anden says. 'They will know, for example, that food insecurity is not as simple as 'somebody needs food, so I will just give them food.' It's probably more complex than that.'
Delaney McDowell enrolled in Hawkeye Service Breaks as a member of UI Dance Marathon, a student philanthropy that supports pediatric oncology patients and is affiliated with the health care section of the course. She volunteered regularly at UI Stead Family Children's Hospital before the pandemic and was eager to learn about being an active citizen and improving her community.
'We've talked in class about finding the reason behind your volunteering. A lot of people think service has to be this profound change, that it has to be the most life-changing experience that they've ever had, and it doesn't always have to be that. Sometimes smaller things can mean just as much,' she said. 'Right now, for example, we're collecting clothes for kids staying in the hospital for a long time, and that's not typically something you would think of when you think of service. But we're doing this because we identified it as an issue-these kids either run out of clothes or outgrow them. In the grand scheme of things, it seems small. But small things add up.'
Prateek Raikwar agrees. The third-year neuroscience and music major from Iowa City signed up for Hawkeye Service Breaks his first year on campus and joined the section looking at food insecurity. He had participated in food drives as a Boy Scout and wanted to develop a greater appreciation for the issue. After completing the class, for which he traveled to Atlanta over spring break, he says he was surprised by how widespread the issue is. This year he is working as a student leader with the program.
Van Anden said his team tried to focus on what could be done in 2021 rather than what could not be done due to COVID-19. Lessons from 2020, when travel was canceled the week before spring break, helped fine-tune plans for the current semester.
'While you cannot replace an immersive in-person service experience, I think the team has done a really good job of capturing the energy and reflections involved,' he said. 'We knew that returning to in-person service was likely going to be limited, and our goal was to get students to say, 'Wow. I learned so much about myself, my values, how I'm living those values, and how I operate in the world.'
Despite not having that immersive experience, McDowell says she will draw from the coursework for the rest of her life.
'A strong component of this class is self-reflection, so you learn a lot about yourself,' she said. 'Part of what we do each week is formulate individual plans and, by the end of the class, we'll have a well-rounded plan that reflects what we've learned about ourselves and what we want to continue to do in the future, and that's incredibly valuable.'