Home / Life
Bison head taken down at Carnegie museum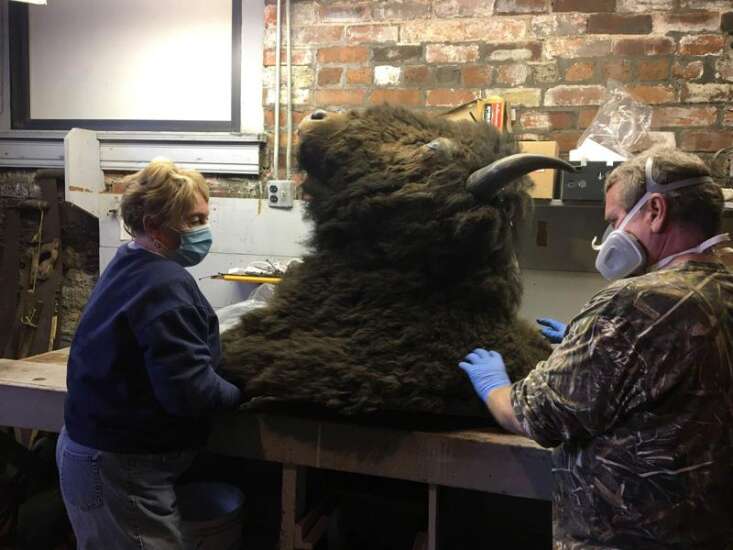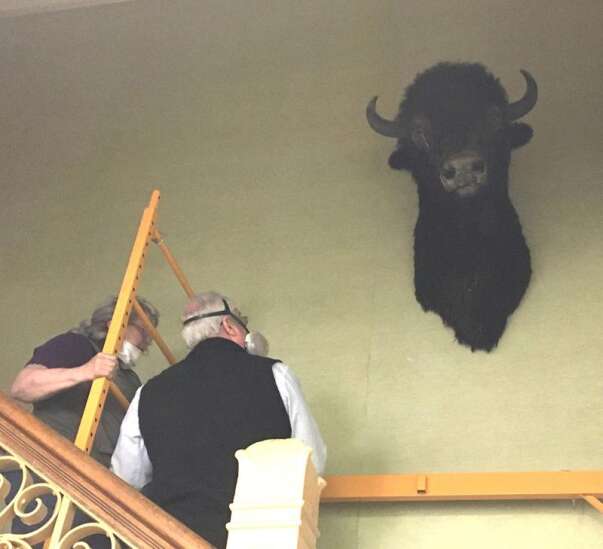 Volunteers recently dismounted and cleaned a taxidermied bison head at the Carnegie Historical Museum in Fairfield.
The bison head was presented to the Carnegie Library in 1914 during Old Settlers Day. The year before, when the Old Settlers Day committee contacted the Singmaster farm in Keota to get a buffalo for 1913's Old Settlers Day barbeque, Mr. Singmaster offered to make them a present of a second buffalo if they purchased one, providing they would have it mounted and placed in the Library or Court House, which they agreed to.
Earlier this month, a team of volunteers assembled a scaffold to get the bison head off the wall to make repairs to it. Among the helpers were Tom Urban and his wife Esther, who own Estoban Corporation located west of Fairfield.
Taxidermist Brian Holthus and Tom took the bison off the wall. It was wrapped in a large plastic bag to limit possible damage and keep dirt and dust off the workers. Carnegie museum board members Dave Neff, Joe Hunt, and Sheri Blough-Neff along with Holthus carried the bison down the steps to the basement.
Holthus will take several weeks to give the 107 year old mount a bit of a face lift - cleaning the mount and fixing the cracks and holes.